Why Whales and Birds Sing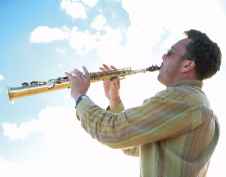 David Rothenberg
Department of Humanities
NJIT College of Sciences and Liberal Arts
NJIT Campus Center Ballroom
Wed, April 1, 2009, 3:00 – 4:30 pm
Download the brochure (PDF, 218 KB)
David Rothenberg, clarinetist and professor of philosophy and music, brings a unique perspective to interpreting our relationship with nature through words and music— a perspective he will share on April 1 when he performs at NJIT.  Rothenberg's music connects the living sounds of the natural world to the traditions of global rhythmic innovation and improvisation. Inspired by the melodies and beats of birds, insects, whales, water and wind, he blends spontaneous musical inventiveness with a sense of rhythm, exuberance and listening to nature.
Rothenberg's latest CD Whale Music and book Thousand Mile Song came out in 2008. Booklist on Line, a publication of the American Library Association, named Thousand Mile Song one of the ten best science and technology books for 2008.
His earlier book and CD Why Birds Sing have received wide attention in the United States, England and Australia, with the book being published in Italian, Spanish, Mandarin, Taiwanese and Korean as well. Why Birds Sing has also been the subject of a BBC documentary feature.
As a clarinetist, Rothenberg has performed and recorded with Adam Rudolph, Jan Bang, Scanner, Hamid Drake, Glen Velez, Karl Berger, Peter Gabriel, Ray Phiri, Nils Økland, and the Karnataka College of Percussion. The seven CDs released under his own name include On the Cliffs of the Heart, named one of the top ten releases of 1995 by Jazziz magazine. He is the author of several previous books on music and nature, including Sudden Music and The Book of Music and Nature.  In 2009 he will release a record of duets with noted pianist Marilyn Crispell on the ECM label.
Co-sponsors: NJIT Technology and Society Forum Committee, Albert Dorman Honors College, Sigma Xi.