New Jersey Symphony Orchestra

 
with Soprano Tharanga Goonetilleke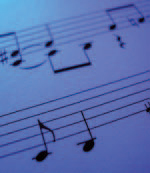 NJIT Campus Center Atrium
Wed, Feb 25, 2009, 3:00 – 4:30 pm
Download the brochure (PDF, 169 KB)
Music is an expression of our creativity spanning all eras and cultures.On February 25, the Technology and Society Forum will again celebrate this aspect of creativity when New Jersey Symphony Orchestra (NJSO) artists perform selections by five noted composers.
The selections: "Sonata in A Minor," C.P.E. Bach; "Sonata for Flute, Viola and Harp,"Claude Debussy; "The Fountain," Alphonse Hasselmans; "Caprices," Niccolo Paganini; and "In Sweet Music," William Schuman.  NJSO performers: Brett Deubner, viola; Kathleen Nester, flute; and Barbara Allen, harp. They'll be joined for "In Sweet Music" by soprano Tharanga Goonetilleke.
Brett Deubner received his bachelor's in violin and master's in viola from the Eastman School of Music.He has performed with the Rochester Chamber Music Society and the Rochester Philharmonic Orchestra. Currently principal violist, Princeton Symphony Orchestra, Deubner is also a member of the NJSO.
Kathleen Nester has performed with the New York Philharmonic and the New York City Opera.  A member of the flute faculty at New York University, Nester received her master's in music from the Manhattan School of Music and her bachelor's from City College of New York.
Barbara Allen, who brings preeminent talent to special NJSO performances, is principal harpist of the American Ballet Theatre Orchestra and the Greenwich Symphony. She has performed with the New York Philharmonic, Vienna Philharmonic and American Symphony Orchestra.  Allen holds degrees from SUNY Purchase and The Juilliard School.
Soprano Tharanga Goonetilleke, the first Sri Lankan to be awarded a full scholarship for singing to an American university, is a graduate of the Petrie School of Music at Converse College. An outstanding student of voice since the age of 12, she continued graduate study in voice and opera at The Juilliard School. She graduated in 2008 and is currently a member of the Juilliard Opera Center.
Co-sponsored by the NJIT Technology and Society Forum Committee, Albert Dorman Honors College, and Sigma Xi.