Four Women Composers: The Downtown Chamber Trio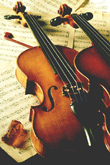 NJIT Campus Center Atrium
March 28, 2007; 3:00 - 4:30 pm

Print brochure (4.4 MB, pdf)

Insights into the nature of our society and significant social change can be gained from many sources—including music.With a philosophy which resonates strongly with that of NJIT's Technology and Society Forum, The Downtown Chamber Trio's performance at the university on March 28 will feature music created by four exceptional women. In a socially relevant program that entertains, educates and challenges, the group will offer selections by Nadia Boulanger, Rebecca Clarke, Fanny Mendelssohn, and Clara Schumann. Spanning a century of aspiration and accomplishment in music, these women soared creatively in a cultural context that too often honored their male artistic peers with greater recognition.
Forming The Downtown Chamber Trio are violinist Rieko Kawabata, cellist Daniel Barrett and pianist Mimi Stern-Wolfe, who is also artistic director of Downtown Music Productions. Born in Japan, Kawabata made her debut with the Tokyo Symphony Orchestra at the age of ten and won the Ana Ono Memorial Prize, becoming the youngest performer to win the competition. Barrett is a performer, composer and conductor whose work encompasses international festivals, popular TV shows like Saturday Night Live and documentaries such as Ric Burns' The Way West.
A graduate of the School of Performing Arts, Queens College, Stern-Wolfe earned a master's degree from New England Conservatory. She has worked with pianists Ray Lev, Cecile Ruef and Leonid Hambro, and in Paris studied with Nadia Boulanger, one of the composers who will be featured on March 28.
Co-sponsored by the Murray Center for Women in Technology, NJIT ADVANCE Program, NJIT Technology and Society Forum Committee Technology and Society.